The Capitol Theatre To Host The Big Easy With Trombone Shorty & Orleans Avenue, Cyril Neville And More
Greenwich Wine + Food Announces Culinary Talent For The Big Easy On Saturday, March 4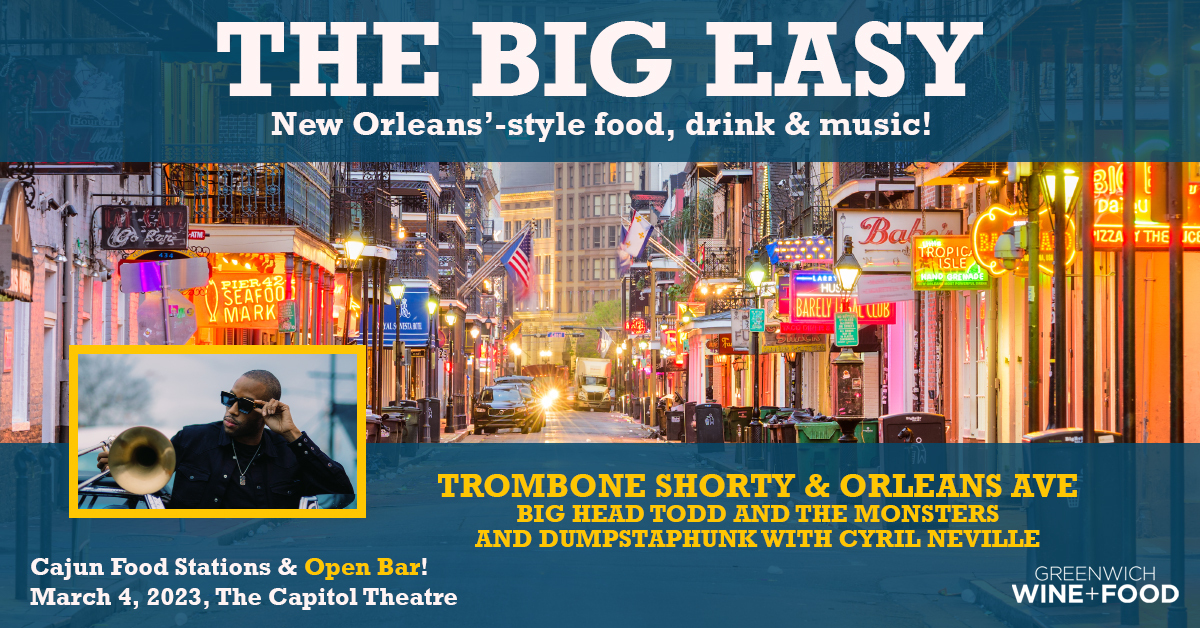 Greenwich Wine + Food has announced the culinary talent that will be participating in The Big Easy at the Capitol Theatre in Port Chester, New York on Saturday, March 4, bringing the flavors and fun of New Orleans to life. Beneficiaries include two national non-profit organizations with roots in Connecticut - The Jacques Pépin Foundation and Wholesome Wave. Premium sponsors include Wagoneer and Greenwich Hospital.
This completely new, dine-around evening event will invite guests to wander the New Orleans-style grand tasting event featuring signature Cajun and Creole dishes from area chefs from 6:30pm-8:30pm. Bourbon Street's iconic drinks such as Hurricanes and Mudslides, as well as premium wine, beer and spirits, will be served throughout the entire evening. Special ticket options will invite guests to begin their culinary travels thirty-minutes early at 6pm, a private pre-party, access to a second-floor bar and seating area, VIP parking and more.
Musical talent for the evening includes headliner Trombone Shorty & Orleans Avenue, Big Head Todd & the Monsters and Dumpstaphunk + Cyril Neville(opening the evening's musical line-up at 6:30pm). Longtime supporter of Greenwich Wine + Food Gary Dell'Abate (The Howard Stern Show) and member of the organization's board of advisors will serve as one of the evening's emcees, alongside Suni Unger, founder and CEO of Unger Media, the parent company behind Greenwich Wine + Food and Serendipity Magazine.
The culinary line-up includes:
Tickets are now on sale and include food, unlimited drinks and all musical performances. Prices range from $325 (VIP Floor Badge) to $450 (Diamond VIP Loge Badge). A limited number of private booths are available via sponsorship opportunities. The full schedule of programming and tickets are available atwww.greenwichwineandfood.com.
Please note that talent, chefs and dates for the celebration are subject to change. Parameters for weather, age restrictions, and health and safety guidelines also be available on www.greenwichwineandfood.com.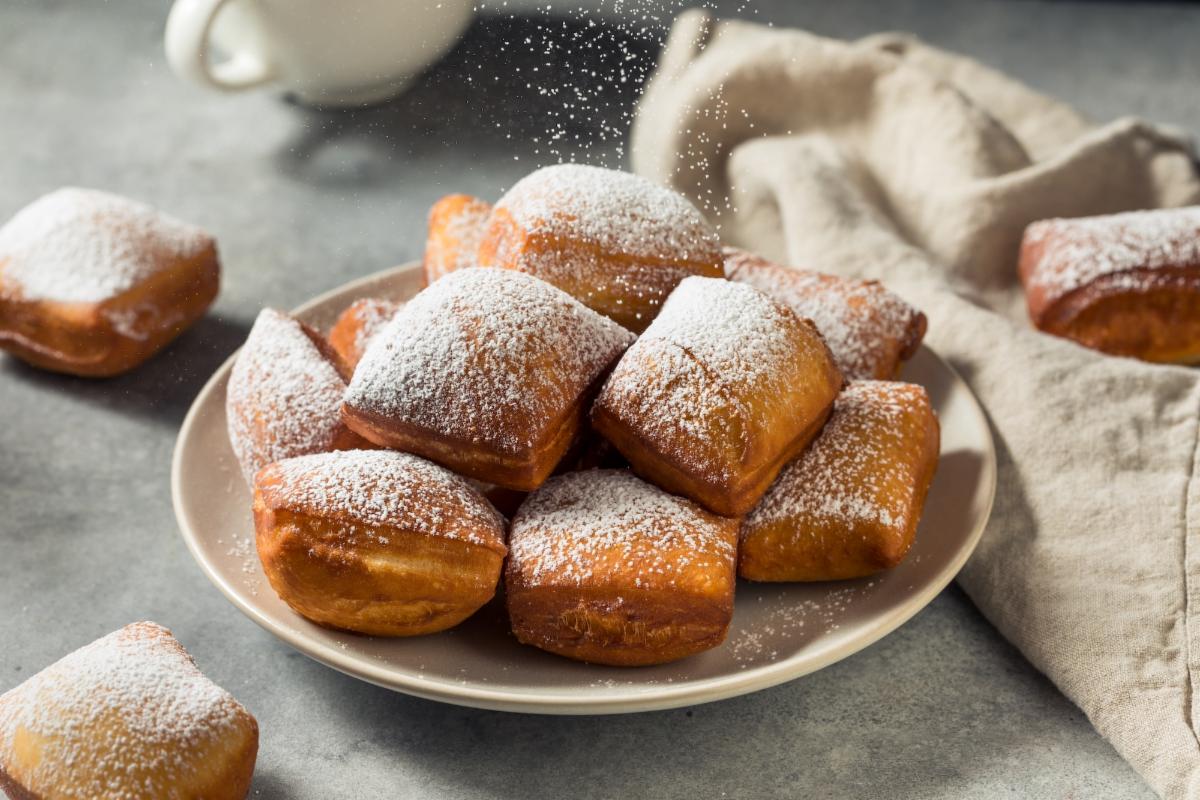 Credit: Brent Hofacker
ABOUT GREENWICH WINE + FOOD
Greenwich Wine + Food embraces and honors culinary visionaries in the community of Connecticut and New York, and beyond. A pillar of the brand is creating content, experiences and opportunities to bring together the most incredible chefs, restaurateurs, purveyors, farmers, vintners, industry leaders and guests while giving back to important causes. GWF celebrates community, charity, food, beverage and more in the Connecticut and New York area with multiple events throughout the year, including its flagship Greenwich Wine + Food Festival. The 2022 beneficiaries include the Jacques Pépin Foundation and Wholesome Wave. All proceeds will benefit both organizations.
Previous participants include chefs Jacques Pépin, Daniel Boulud, Scott Conant, Mary Giuliani, Alex Guarnaschelli, Marc Murphy, Adam Richman and Marcus Samuelsson, as well as musical artists Tim McGraw, Little Big Town, Train and Ziggy Marley. Celebrating its 10-year anniversary this year, previous beneficiaries include the Multiple Myeloma Research Foundation, the Town of Greenwich Parks & Recreation Foundation, Food Rescue US and Ment'or.
Sponsors to date include Wagoneer, Greenwich Hospital (Premium Sponsors), Compass, Douglas Elliman, Empire Merchants LLC, Liberty Coca-Cola Beverages, Serendipity, Sysco, Tyson Fresh Foods, Westy Self-Storage and Woodford Reserve (*). The event was created by Suni Unger, founder and CEO of Unger Publishing, the parent company behind Greenwich Wine + Food and Serendipity magazine (a women-owned, women-run business), and is supported by a board of advisors including Rob Burnett, Gary Dell'Abate, Icy Frantz, Griffith Harris, Lee Milazzo, Holly Parmelee, Jenny Prince, Karen Rubenstein, Gerard N. Saggese III, Lara Spencer, Andy Stern and Bill Taibe. For more information, visitwww.greenwichwineandfood.com or the event's social media channels: Facebook (@Greenwichwineandfoodfestival) and Instagram (@greenwichwineandfood), or email wineandfood@ungerpublishing.com.
(*As of 1/30/23)
ABOUT THE JACQUES PÉPIN FOUNDATION
The Jacques Pépin Foundation supports community kitchens that offer free life skills and culinary training to adults with high barriers to employment, including previous incarceration, homelessness, substance abuse issues, low skill and education attainment and lack of work history. Become a JPF Member to support our educational programs and grants. For more information, visitwww.jp.foundation.
ABOUT WHOLESOME WAVE
Wholesome Wave is a national non-profit established on the belief that everyone, regardless of race, age, ethnicity, or income, has a fundamental right to choose healthy food. Wholesome Wave's mission is to address disparities in diet-related disease and enhance nutrition equity by making fruits and vegetables more accessible and affordable to low-income community members through systems change. Founded in 2007 by James Beard Award-winning Chef Michel Nischan and former USDA Undersecretary of Agriculture Gus Schumacher, Wholesome Wave successfully established the legal framework and advocated funding the doubling of SNAP benefits when spent on healthy fruits and vegetables - a program that has reached millions of community members across the country and has been established as a permanent program in the 2018 Farm Bill, named the Gus Schumacher Nutrition Incentive Program. Today, Wholesome Wave is leveraging our 15 years of experience and relationships supporting successful fruit and vegetable access programs to advocate for their inclusion as a covered healthcare treatment through government-sponsored health plans.
ABOUT THE CAPITOL THEATRE
Designed by celebrated architect Thomas Lamb in 1926 and listed in The National Register of Historic Places, the 2,000-capacity Capitol Theater, known as "the original rock palace,' has showcased rock legends such as Black Sabbath, Chuck Berry, David Bowie, Derek and the Dominos, Janis Joplin, Pink Floyd, and The Rolling Stones. Jerry Garcia once called it his favorite venue. In 2012, the Capitol Theatre underwent a transformative renovation under the guidance of entrepreneur Peter Shapiro (Brooklyn Bowl, Lockn' Festival, the "Fare Thee Well" Grateful Dead 50th Anniversary stadium shows, music magazine Relix, FANS). Since then, The Capitol has hosted many of music's most prominent performers including Bob Dylan, Phil Lesh, Ringo Starr, Ryan Adams, Skrillex, Snoop Dogg, The Strokes, Tom Petty, Willie Nelson, and many more. The Capitol has also welcomed comedians like Kevin Hart and Amy Schumer. More at thecapitoltheatre.com.
For more information please contact Shore Fire Media
Rebecca Shapiro rshapiro@shorefire.com
Shannon Cosgrove scosgrove@shorefire.com
MC Miskell mcmiskell@shorefire.com