The next best cocktail for your virtual happy hour
During quarantine the zoom parties and virtual gatherings are the new standard of socializing. Besides wine, sometimes we need a cocktail for that virtual happy hour. Better yet if that cocktail has Champagne and hard kombucha. Hence, I have for you you the best sparkling cocktail for your next virtual happy hour. Fermented 75 is a sparkling cocktail with hard kombucha and champagne and that citrus flavor is a punch of vitamin C that we all need right now. Check the recipe below so you can try it on your next virtual happy hour.
INGREDIENTS
1½oz London Dry Gin
½oz Lemon Juice
½oz Earl Grey Tea Syrup
2oz Flying Embers Lemon Orchard Kombucha
1 oz Champagne
1 Lemon Twist
Champagne Flute
PREPARATION
Simple as combine all ingredients in a champagne flute and garnish with a lemon twist.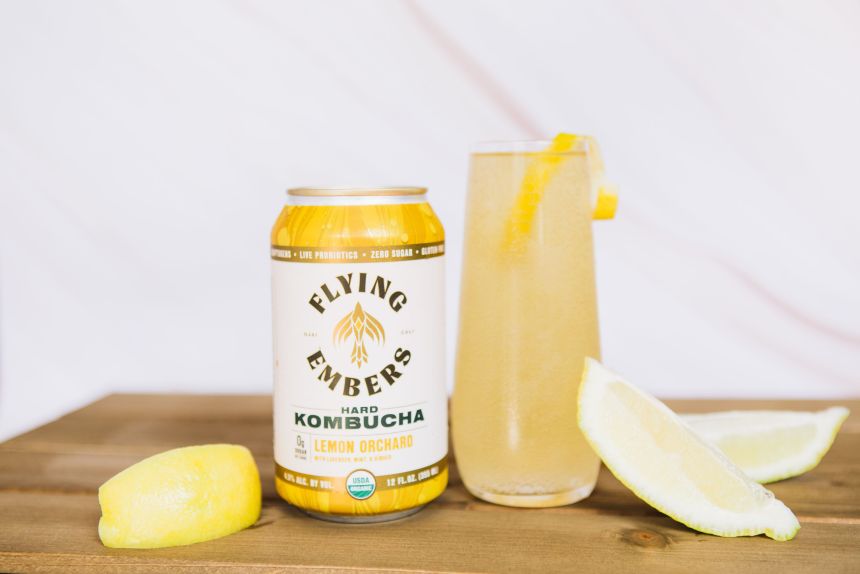 Fermented 75: Sparkling cocktail that includes Champagne and Flying Embers Hard Kombucha
Have you heard about hard kombucha?
I think you guys already know that Kombucha is a delicious, sparkling probiotic tea. But what about hard kombucha? Have you heard about hard kombucha? Flying Embers is a hard kombucha hand-crafted with an adaptogen root blend of Ashwagandha, Tumeric, Ginger and Astragalus. Good stuff for your gut!
Flying Embers is the world's first shelf-stable probiotic hard kombucha
The dry fermentation process gives the hard kombucha a perfectly balanced natural sweetness with zero sugar, and all the amazing flavors are certified organic, gluten-free and vegan. Flying Embers is also the world's first shelf-stable probiotic hard kombucha featuring live probiotics and native kombucha bacteria. They range from 4.5% to 7.2% alcohol by volume (ABV) and the current line includes six flavors: Ancient Berry, Lemon Orchard, Ginger & Oak, Pineapple Chili, Black Cherry & Grapefruit Thyme.
More on Flying Embers Hard Kombucha