Wasserman Music Promotes Seven New Agents, Announces Promotions In Business Development And Operations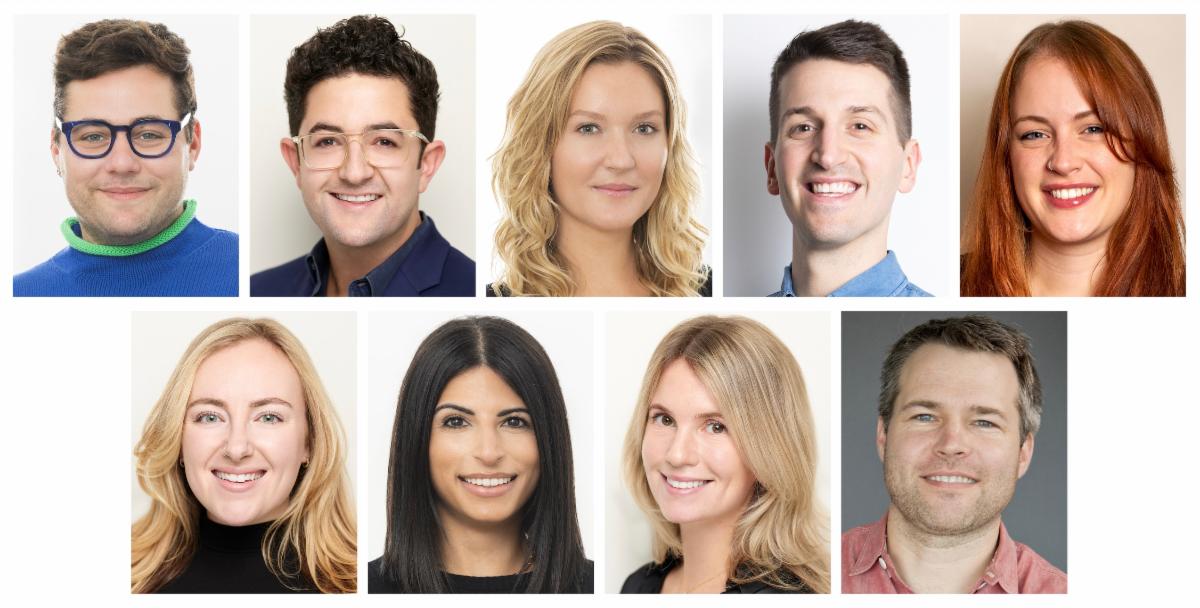 Row 1, left-right: Eli Gelernter, Logan Handelsman, Lindsay McDowell, Yitzi Peetluk, Jess Bumsted
Row 2, left-right: Mary Kate Carragher, Kaela Ismael, Sara Pullman, Chappel McCollister
Photo Credits + High Res Downloads here
Today, Wasserman Music – the premier full-service, artist-first agency – announces the promotion of seven members of its global team to agents, including four responsible agents, two new Tour Marketing agents, and one Fairs & Festivals agent. The company is also elevating two veteran employees to executive positions in Business Development and Operations. The promotions reflect the agency's substantial growth and support the expansion of its world-class talent roster.
Wasserman's newly-promoted agents include responsible agents Eli Gelernter, Logan Handelsman, Lindsay McDowell and Yitzi Peetluk. The agency also expands its formidable artist service teams with Fairs & Festivals agent Jess Bumsted and tour marketers Mary Kate Carragher and Kaela Ismael. Additionally, Sara Pullman rises to the executive role of VP, Operations, and Chappel McCollister steps up to become Wasserman's SVP of Business Development.
"Our two biggest priorities at Wasserman Music are the ongoing efforts to super-serve our clients and the continued career growth of our staff. These well-deserved promotions help us achieve both," says Lee Anderson, Wasserman Music EVP & Managing Executive. "We could not be prouder of each of these employees and look forward to their continued success and contributions here at Wasserman."
Eli Gelernter began his career with the Wasserman Music team as an intern, then communications assistant. Working under Marty Diamond, he grew to become a coordinator and senior coordinator. Eli has been instrumental in establishing and growing Wasserman's Pride Festival business as a new agency-wide business segment. His clients include RAYE, Wet Leg, FLO, and hemlocke springs. Eli is a graduate of Penn State University.
Logan Handelsman worked for CAA and Mint Talent Group before joining the Wasserman team as a coordinator under agent Jay Moss. Based in New York, where he has been steadily building his roster over the past year, he will serve as the responsible agent for artists Daily Bread, Detox Unit, Dr. Fresch, EazyBaked, Emancipator, EREZ, Gioli & Assia, Jade Cicada, Kyle Kinch, Mickman, Of The Trees, Ravenscoon, TroyBoi, and Westend, among others. Logan is a graduate of Vanderbilt University.
Following internships at Red Light Management, CID Entertainment, and Joe's Pub in New York, Lindsay McDowell joined the Monterey, CA, office in 2018, assisting Lynn Cingari and working with the Performing Arts Center team. Lindsay is now based in Los Angeles, where she continues to work with Punch Brothers, The Wood Brothers, moe, Allison Russell, Kitchen Dwellers, and others – focusing on the jam band/bluegrass/Americana space. She's a graduate of Drexel University's Entertainment Arts Management program
Yitzi Peetluk began his career at Berklee College of Music in Boston, where he worked at The Red Room @ Cafe 939 and interned with Bowery Presents/Boston. Upon graduation, he was hired as the Assistant Talent Buyer for Cafe 939 until moving to Nashville in 2017 to work at CAA. In 2018, he became assistant to Wass Music agents Keith Levy and Matt Runner, and since 2020 has served as a coordinator and senior coordinator under Levy and Lenore Kinder. He will continue to work with artists including Sierra Ferrell, Shakey Graves, Weyes Blood, Joy Oladokun, Sarah Jarosz, Langhorne Slim, Nikki Lane, Nick Shoulders, and others.
Jess Bumsted joined the San Diego office in 2017 as Corrie Martin's assistant, working on the LoveLoud Festival and Martin's agent roster. In 2020, Jess was part of establishing start-up agency Arrival Artists, then joined Wasserman's Fairs & Festivals department as a coordinator in 2022. A graduate of Drexel University, Jess is part of the team that runs the Chicago chapter of She Is The Music, empowering female and non-binary songwriters and placing their music.
Mary Kate Carragher started her journey at Paradigm in 2019 as an executive assistant to Paul Morris, before pivoting to Wasserman's Tour Marketing team under Sam Alpert. She has worked on tour marketing campaigns for clients including Jack Harlow, Death Cab for Cutie, ODESZA, Oliver Tree, Omar Apollo, Bobby Weir & The Wolf Bros, Rebelution, and $UICIDEBOY$. A graduate of Belmont University, Carragher has previously held positions at Superfly, Universal Music Group Nashville, and the music non-profit Songs Against Slavery.
Following an early position in Tour Marketing at Live Nation, Kaela Ismael joined Wasserman in 2021 on Jessica Lawson's team. There she has worked on tour marketing campaigns for artists including Billie Eilish, Brandi Carlile, Imagine Dragons, Kacey Musgraves, Lorde, Caroline Polachek, Cannons, Nickel Creek, Vance Joy, and Lake Street Dive. Kaela is a graduate of University of Colorado Boulder.
As Wasserman Music's VP, Operations, Sara Pullman helps to create the best possible work environment for the agency's team so that they can drive exceptional business for artists. That includes planning the agency's industry events, running point on securing visas for international artists, improving technical systems, working with HR on recruitment and staff training programs, liaising with Business Affairs on compliance and process rollouts, and more. Pullman – who started her career as an assistant at dance agency AM Only before climbing the ladder to agent and then moving to operations – leads all of Wasserman's branded events during SXSW, Lollapalooza, Outside Lands, and Miami Music Week, and cultivates festival relationships. In addition to her work at Wasserman, she is pursuing a Master's degree in Mental Health and Wellness at NYU, which she plans to use to strengthen the role of therapy in the music industry.
As SVP of Business Development, Chappel McCollister is devoted to leveraging synergies between the company's music, sports, film, marketing and social media divisions to build unique, high-profile and profitable campaigns for clients. In his four years with the Wasserman Music team, his campaign highlights include an award-winning brand collaboration for Kacey Musgraves with candle maker Boy Smells; a partnership between Musgraves and Chipotle featuring the brand's short animated film that went on to win three Clio Awards and five Cannes Lions Awards; the design of the global Blake Shelton x Land's End collection. More recently, he helped Margo Price launch her cannabis collection with Dad Grass, branded Mom Grass, to support her latest album release, and helped launch Nashville Soccer Club's brand-new Man in Black Kit, honoring one of the most influential singer-songwriters of all time, Johnny Cash, a partnership that was spearheaded by McCollister. He is also a co-leader of Wasserman Music's country and Americana genres.
"I have seen the future of music, sports, business development, and brand partnerships. Its name is Chappel McCollister," says Jonathan Levine, Wasserman Music EVP & Managing Executive. "Hard pressed to find anyone who out-thinks, out-shines, or out-hustles Chappel. He's best in class and provides tremendous service to our clients across a broad array of creative opportunities."
ABOUT WASSERMAN MUSIC
Wasserman Music represents a world-class roster of artists for live performance, touring, brand partnerships and beyond, empowering them to create culture and impact audiences globally. The passionate, entrepreneurial agents at Wasserman Music are long-term artist development strategists who build significant, global platforms for the world's most impactful artists. Wasserman Music is a division of Wasserman, a partner to the world's most iconic sports figures, musical artists, brands, and properties.
WASSERMAN MUSIC ON THE WEB
Website: teamwass.com/music
Roster: artists.teamwass.com/music
Instagram: instagram.com/wassermanmusic
###