WATCH: First Look at Peppa Pig! Live Peppa Pig's Adventure
Romper premiered "Today Is The Day" (Official Sing-Along) video – read more HERE
Peppa Pig! Live Peppa Pig's Adventure kicks off US tour in March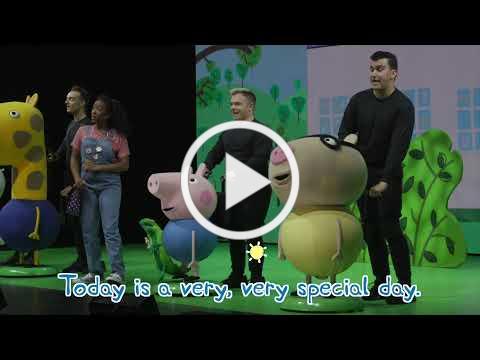 Today (2.16), Round Room Live and Hasbro shared an exclusive preview of Peppa Pig Live! Peppa's Big Adventure, with the sing-along video for one of the show's original tracks "Today Is the Day."
In the video, Peppa and her friends are brought to life on stage as they sing "Today is the Day" – a fun-loving track about the excitement of getting ready for their school camping trip. A sing-along perfect for the whole family, the one-minute+ video is an early preview of the magic and fun that Peppa, George, Pedro Pony, Suzy Sheep, and Gerald Giraffe will have on the road this year. Romper exclusively shared the video this morning – read more here.
Peppa Pig Live! Peppa Pig's Adventure will kick off its US tour on Wednesday, March 16th in San Antonio, TX, bringing everyone's favorite adorable British pig to families across the country.
Peppa Pig Live! Peppa Pig's Adventure follows Peppa on an exciting camping trip in the woods with George and her school friends, including Pedro Pony, Suzy Sheep, and Gerald Giraffe. The live, 60-minute family-friendly musical experience will visit select markets including Atlanta, Orlando, Detroit, Nashville, and Boston. Tickets are on sale now at peppapigliveus.com.
Airing around the world in more than 40 languages and produced by eOne, Hasbro's global entertainment studio, Peppa Pig is the #1 most streamed preschool show for kids of any age globally. Peppa Pig is streamed on top content platforms including Paramount+, Amazon Prime Video, and Roku and is considered the "crown jewel" of Nick Jr. with more than 3.2 million global followers on Facebook and 84 million subscribers on YouTube. Peppa's first musical release, My First Album, continues to take the world by storm following its 2019 release—and Peppa's second album Peppa's Adventures: The Album, was released in July 2021 and continues Peppa's pop stardom.
Fans can visit peppapigliveus.com now for tour dates, ticket information and follow Peppa Pig Live! on social media for exclusive tour content. A current list of tour dates can be found below and at peppapigliveus.com. Additional dates and cities will be announced soon.
UPCOMING PEPPA PIG LIVE TOUR DATES:
Wednesday, Mar. 16 – Majestic Theatre – San Antonio, TX
Thursday, Mar. 17 –Smart Financial Center at Sugar Land - Sugar Land, TX
Friday, Mar. 18 – Texas Trust CU Theater – Grand Prairie, TX
Saturday, Mar. 19 – Mahalia Jackson Theater – New Orleans, LA
Sunday, Mar. 20 – Fox Theater – Atlanta, GA
Tuesday, Mar. 22 – Ovens Auditorium – Charlotte, NC
Wednesday, Mar. 23 – Saenger Theatre – Pensacola, FL
Thursday, Mar. 24 – Steinmetz Hall – Orlando, FL
Friday, Mar. 25 – Hertz Arena – Estero, FL
Saturday, Mar. 26 – AuRene Theater at Broward Center – Fort Lauderdale, FL
Sunday, Mar. 27 – Ruth Ekerd Hall – Clearwater, FL
Tuesday, Mar. 29 – Carpenter Theatre at Dominion Energy Theatre – Richmond, VA
Wednesday, Mar. 30 – NJPAC – Newark, NJ
Friday, Apr. 1 – Capital One Hall – Tysons, VA
Saturday, Apr. 2 – Lyric Theater – Baltimore, MD
Sunday, Apr. 3 – State Theater – New Brunswick, NJ
Friday, Apr. 8 – Fox Theater – Detroit, MI
Saturday, Apr. 9 – Rialto Square Theater – Joliet, IL
Sunday, Apr. 10 – Miller High Life Theater – Milwaukee, WI
Wednesday, Apr. 13 – Count Basie Center – Red Bank, NJ
Thursday, Apr. 14 – FM Kirby Center – Wilkes Barre, PA
Saturday, Apr. 16 – Lowell Memorial Auditorium – Lowell, MA
Tuesday, Apr. 19 – Akron Civic Center – Akron, OH
Wednesday, Apr. 20 – Municipal Auditorium – Charleston, WV
Thursday, Apr. 21 – Veterans Memorial Auditorium – Providence, RI
Saturday, Apr. 23 – Byham Theater – Pittsburgh, PA
Sunday, Apr. 24 – American Music Theater – Lancaster, PA
Thursday, Apr. 28 – Kodak Center – Rochester, NY
Saturday, Apr. 30 – Symphony Hall – Springfield, MA
Sunday, May 1 – Emerson Colonial Hall – Boston, MA
Thursday, May 5 – The Family Arena – St. Charles, MO
Friday, May 6 – Von Braun Center – Huntsville, AL
Saturday, May 7 – Alabama Theatre – Birmingham, AL
Sunday, May 8 – City Hall Live – Brandon, MS
Friday, May 13 – Capitol Theatre – Wheeling, WV
Saturday, May 14 – DPAC – Durham, NC
Sunday, May 15 – Bell Auditorium – Augusta, GA
Wednesday, May 18 – Andrew Jackson Hall – Nashville, TN
Thursday, May 19 – Clowes Memorial Hall – Indianapolis, IN
Saturday, May 21 – Paramount Theatre – Rutland, VT

All cities/dates are subject to change.
FOLLOW PEPPA PIG LIVE:
Website: peppapigliveus.com
Facebook: @PeppaPigUSTour
Twitter: @PeppaPigLiveUS
Instagram: @PeppaPigUSTour
FOLLOW PEPPA PIG:
Website: peppapig.com
Facebook: @OfficialPeppaPig
Twitter: @peppapig
Instagram: @officialpeppa
YouTube: youtube.com/c/peppapig
E-Newsletter: peppapig.com/muddypuddlesclub
FOLLOW ROUND ROOM LIVE:
Website: roundroomlive.com
Facebook: @roundroomlive
Twitter: @roundroomlive
Instagram: @roundroomlive
About Round Room Live, an Entertainment One Company:
Round Room Live is a producer and promoter of live entertainment, that specializes in transforming both new and iconic intellectual property into engaging and thrilling live events. Round Room creates unique live experiences tailored to the distinct character of each property and produces the highest quality productions for audiences around the world.
Their current roster of touring theatrical shows includes: Baby Shark Live!, Blippi The Musical, Peppa Pig Live, and PJ Masks Live! Save the Day. Round Room's Immersive and Entertainment Experiences division is currently touring: Jurassic World: The Exhibition, Mandela: The Official Exhibition and Tupac Shakur. Wake Me When I'm Free, which recently opened in Los Angeles in January 2022. In February 2018, Entertainment One acquired a majority position in Round Room Live. Entertainment One is now a division of Hasbro.
About Hasbro:
Hasbro (NASDAQ: HAS) is a global play and entertainment company committed to making the world a better place for all children, fans and families. Hasbro delivers immersive brand experiences for global audiences through consumer products, including toys and games; entertainment through eOne, its independent studio; and gaming, led by the team at Wizards of the Coast, an award-winning developer of tabletop and digital games best known for fantasy franchises MAGIC: THE GATHERING and DUNGEONS & DRAGONS.
The company's unparalleled portfolio of approximately 1,500 brands includes MAGIC: THE GATHERING, NERF, MY LITTLE PONY, TRANSFORMERS, PLAY-DOH, MONOPOLY, BABY ALIVE, DUNGEONS & DRAGONS, POWER RANGERS, PEPPA PIG and PJ MASKS, as well as premier partner brands. For the past decade, Hasbro has been consistently recognized for its corporate citizenship, including being named one of the 100 Best Corporate Citizens by 3BL Media and one of the World's Most Ethical Companies by Ethisphere Institute. Important business and brand updates are routinely shared on our Investor Relations website, Newsroom and social channels (@Hasbro on Twitter, Instagram, Facebook and LinkedIn.)
Peppa Pig Live! Peppa Pig's Adventure Digital Press Kit:
shorefire.com/roster/peppa-pig-live
Round Room Live Digital Press Kit:
shorefire.com/roster/round-room-live
For more information contact Shore Fire Media:
Rebecca Shapiro | rshapiro@shorefire.com
Andrea Evenson | aevenson@shorefire.com
Maria Eilert | meilert@shorefire.com