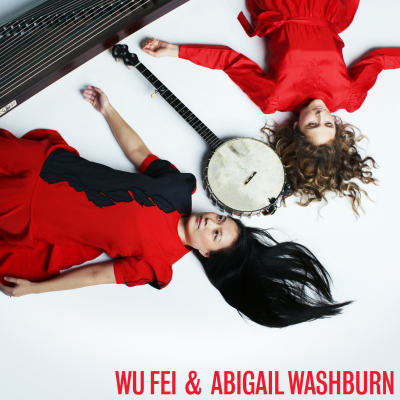 Wu Fei and Abigail Washburn Announce Self-Titled Debut Duo Album
Out April 3rd on Smithsonian Folkways. Pre-order HERE
Wu Fei and Abigail Washburn have announced their self-titled debut collaborative album, out April 3 on Smithsonian Folkways. Their work together is a testament to the connective power of music across seemingly disparate cultures. Merging American old-time music and Chinese folksong, Wu Fei & Abigail Washburn features gorgeous, impressionistic renditions of traditional material from the hills of Appalachia to the prairies of China, each tune flowing seamlessly into the next. The effervescent resonances of Wu's guzheng zither dance around GRAMMY-winner Washburn'sexpressive banjo playing, their voices intertwining English and various Chinese dialects. This album recasts "world music" as music of our shared world, highlighting our shared humanity and the transformative power of song.
Listen to "Water is Wide / Wusuli Boat Song," where Wu and Washburn weave together a traditional tune of Scottish and Irish immigrants whose lyrics and melody were passed along in the oral tradition of the eastern seaboard of the US, and a Chinese folk song recently attributed to the Hezhe people after decades of misattribution to the Han majority HERE.
Wu Fei said of the track: "It is my honor to share Wusuli Boat song, a folk song from the Nanai people (aka Hezhe 赫哲族) who have lived on the Wusuli River (or Ussuri River) bank for hundreds of years. Weaving this song with Water Is Wide, sung by Abigail Washburn, has made me realize how much people all over the world have to share."
Wu Fei and Abigail Washburn will be presenting the songs from this release in Washington, DC and New York City around the release of the album.
Thursday, April 2nd: The Music Center at Strathmore – North Bethesda, MD
Saturday, April 4th: The Sheen Center for Culture and Thought – New York City, NY
Saturday, September 5th: Blue Ridge Music Series - Winston-Salem, NC
Wu Fei and Abigail Washburn's collaboration is as unlikely as it was inevitable—a sonic confluence of politics and vibrations commingling across continents. Their self-titled debut release for Smithsonian Folkways features reinterpretations of songs from Appalachia and China performed on the banjo and guzheng, fused through the deft playing and intense creativity possessed by both musicians. There is an inherent directness to the duo format that makes it a brilliant vehicle for melodic conversations between these close friends as they connect to one another with a respect matched only by their virtuosity.
They said of the origins of their collaboration: "We found one another in our late 20s, when our musical paths crossed in a little mountain town in Colorado. We jammed on American and Chinese folksongs and fast became friends. Over the years, we met at different stops on the road, and we joined up for our first duo concert in Beijing in 2009. Shortly after, we both got married, had babies, and started juggling the life of motherhood and professional music-making. Wu Fei moved with her family to Nashville in 2014, and we began meeting on Abigail's porch to weave stories of motherhood, music, and folksongs of both cultures. In 2017, we birthed the music of this record in Abigail's basement with her husband, Béla Fleck, producing. This music is a labor of love over more than 10 years of friendship and shared life paths, and we are so glad you want to share it with us."
Abigail Washburn, the daughter of idealistic, hardworking, midwestern parents from Evanston, Illinois, wasn't particularly musical as a child—that would come later. She expected to become a lawyer, with the goal of bettering US-China relations. As a young girl in Beijing, Wu Fei was a musical prodigy, trained as a composer at the China Conservatory of Music and fast-tracked to be one of the very best musicians in a country of over a billion people. Fei was to become a professional musician performing state-sanctioned works in austere settings.
But both women took a fork in the road. Abigail has improved US-China relations with a banjo rather than a briefcase. Pursuing her fascination with Chinese language and culture, Abigail regularly toured China for over 20 years, including a month­-long tour of China's Silk Road supported by grants from the US Embassy, Beijing. Abigail's musical projects range from her string band, Uncle Earl, to her bilingual solo release Song of the Traveling Daughter (2005)—and from the mind­-bending "chamber roots" sound of the Sparrow Quartet to Afterquake, her fundraiser album for Sichuan earthquake victims. Washburn's first record with her husband, Béla Fleck, won the 2016 Grammy for Best Folk Album and was followed by their acclaimed second release, Echo in the Valley (Rounder, 2017). Abigail was also a featured collaborator on Yo-Yo Ma & the Silk Road Ensemble's 2017 Grammy-winning record, Sing Me Home. Along with 24 innovative and creative thinkers worldwide, Abigail gave a TED Talk at the 2012 TED Convention in Long Beach about building US-China relations through music. Washburn's cross-cultural focus stems from her hope that hearts and minds worldwide can be united through the universal language of music.
Wu Fei opted to earn her master's from Mills College in California, where she played with leading-edge improvisers like John Zorn and Fred Frith and was mentored by Pauline Oliveros, Cecil Taylor and Meredith Monk before moving to New York and taking the downtown new music and jazz scene by storm. Since then, she has charted a unique path, combining her mastery of the guzheng and composition with avant-garde classical and folk music influences from around the world, all the while creating her own voice. Her commissions have ranged from a composition for the Percussions Claviers de Lyon (France), which premiered in the Forbidden City Concert Hall in Beijing, to live performances in Paris and Tokyo for Hermès. She has composed for Balinese gamelan, symphony orchestra, choir, string quartet, chamber ensemble, film and modern dance. Her most recent work composed for guzheng, oud and chamber ensemble, "Hello Gold Mountain," honors the stories of Jewish refugees in the Shanghai Ghetto during WWII and was awarded a MAP Fund grant. Wu Fei has toured the world extensively, performing at major museums, festivals and events. Her time studying free improvisation ultimately led her to Boulder, Colorado, where she would discover bluegrass music and meet Abigail.
Wu Fei and Abigail Washburn's duo is a musical resolution to their specific and differing issues about home. For Fei, it means an opportunity to assimilate elements of her musical argot—Chinese classical, folk and opera—into song forms while leaving room for the free-associative tendencies she developed in the practice of improvisation. For Abigail, it means musical collaboration with someone she considers her sister who speaks all the same languages—someone with whom she can create brave, intimate music. For the listener, it means a gift of unhurried music drawn freely from streams of raised consciousness, waves which met from halfway across the world to find they shared the same cadence.
ABOUT SMITHSONIAN FOLKWAYS:
Smithsonian Folkways Recordings, the "National Museum of Sound," makes available close to 60,000 tracks in physical and digital format as the nonprofit record label of the Smithsonian, with a reach of 80 million people per year. A division of the Smithsonian Center for Folklife and Cultural Heritage, the non-profit label is dedicated to supporting cultural diversity and increased understanding among people through the documentation, preservation, production and dissemination of sound. Its mission is the legacy of Moses Asch, who founded Folkways Records in 1948 to document "people's music" from around the world. For more information about Smithsonian Folkways Recordings, visit folkways.si.edu.
FOLLOW SMITHSONIAN FOLKWAYS:
Official website: folkways.si.edu
Facebook: facebook.com/smithsonianfolkwaysrecordings
Twitter: twitter.com/folkways
Instagram: instagram.com/smithsonianfolkways
WU FEI AND ABIGAIL WASHBURN ON THE WEB: