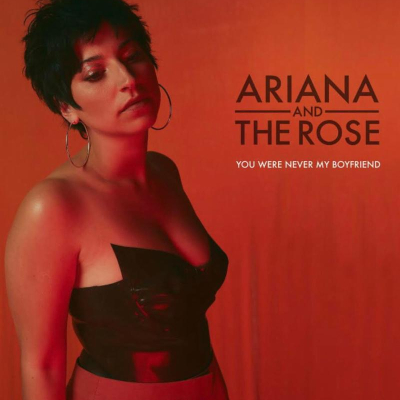 "You Were Never My Boyfriend"
Ariana And The Rose Evolves On Provocative New Single, Out Today
Announces Two-Part 'Constellations' EP
Listen to it & read the Billboard exclusive interview HERE
Today, NYC's "beloved indie pop guru" (PAPER) and nightlife maven Ariana and the Rose drops her anticipated latest single "You Were Never My Boyfriend", a humor-tinged reflection on lost love over a lo-fi electronic beat that sees Ariana at her most minimalistic and provocative. The track is the first taste of what's to come off her upcoming two-part 'Constellations' EP ('Constellations - Phase 1' will drop July 26th, with 'Phase 2' set to land in early 2020).
An expertly written and produced slice of all-too-relatable indie pop, "You Were Never My Boyfriend" ushers in an elevated evolution for the celebrated Brooklyn multi-hyphenate and has led live audiences to group sing-alongs during Ariana's recent tour dates alongside Weathers. With the 'Constellations' EPs, Ariana and the Rose will further cement her special brand of otherworldly four-on-the-floor nu-disco that has put this celebrated "synthpop purveyor" (Billboard) on the map.
Billboard called "You Were Never My Boyfriend" a "bop you could put on before going out on a Friday and a song to listen to while reflecting on your own romantic worries." Listen on streaming services HERE.
Ariana herself has noticed a personal creative evolution in this next era of her musical journey. "I feel much more fearless now," she says. "Thematically I'm always writing about empowerment and standing on your own feet, I think that comes from my own conversations I have with myself. I want people to come away from my music loving themselves more… to give them a soundtrack, an anthem, a hype song to go out into the world and feel fearless themselves."
To date, Ariana and the Rose has accrued 6.2 million streams across Spotify and Apple Music, with 3 million views on Youtube. Her 'light + space' parties have become a word-of-mouth sensation, with the Brooklyn debut reaching over 1.2 million people via social media reach on Instagram and generating 6K individual pieces of content from her PRIDE show alone.
With one glitter-toed boot in the world of NYC nightlife and another on the dance floors where she's made her name, this rising star is set to dominate the summer with a sound that's received comparisons to Robyn's "cerebral pop" (Refinery29). After a three-event residency at Brooklyn's House of Yes and successful events at Manhattan's Public Arts and Los Angeles' Catch One, Ariana's next 'light + space' party will land this summer at new Brooklyn hot spot 3 Dollar Bill. Ariana and the Rose will also make an appearance at the much-anticipated 25th year anniversary of the Vans Warped Tour, taking place in Mountain View, CA this July.
PRAISE FOR ARIANA AND THE ROSE
"If Robyn's brand of cerebral pop music appeals to you, then Ariana and the Rose is right up your alley." - Refinery29
"She's the rare artist who tells a full narrative in a song that you also want to dance to..." - PAPER
"...creates a sparkly, occasionally euphoric, dance-angled kind of synth-pop that'll find favor with fans of Charli XCX." - Noisey
"Exists to propel people into the light, be it the one in your heart or the one shooting from a disco ball." - Consequence of Sound
OFFICIAL SITE | FACEBOOK | TWITTER | INSTAGRAM
For more information on Ariana and the Rose, please contact Josh Page at Shore Fire Media, 718.522.7171.